Premise
After running from hackathon to another in Finland, we wondered what it is like abroad. We looked for a while and found TechCrunch's Disrupt Berlin Hackathon which got us immediately excited. The task was to build a complete product in 20 hours. Usually we have +48 hours to build a concept and some kind of demo out of it. It is nothing compared to building a complete app with working back and front ends from scratch.
Even though participating to Disrupt Berlin Hackathon meant that we had to miss the utopic Slush afterparty, we knew that we had to do it.
Saturday
On the night before the hackathon, none of us slept very good which meant that being at the airport at 6 o'clock was not fun.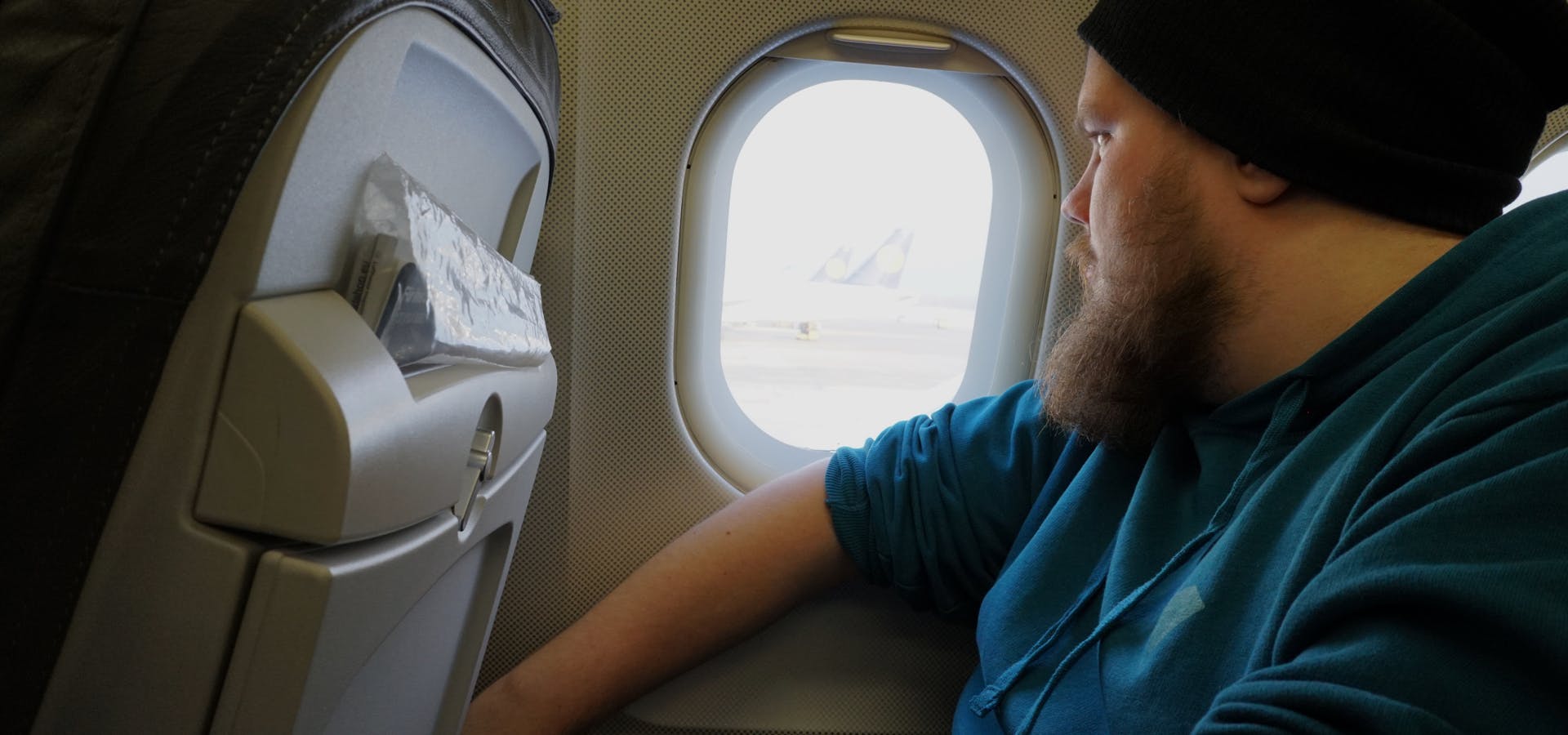 "I wish I had a private jet."
When we arrived to the venue, we had a blurry idea of an app that we could make. Really simple idea to be exact: when someone is running a marathon, it would really help them with their performance to get feedback from their friends and family. Currently there are no solutions to sending voice recordings to you while one is running. There are some implementations which use text to speech, but that is no where close of the personality of a recorded message. We wanted to make it possible for friends & family to cheer their marathon running friend with personal voice messages.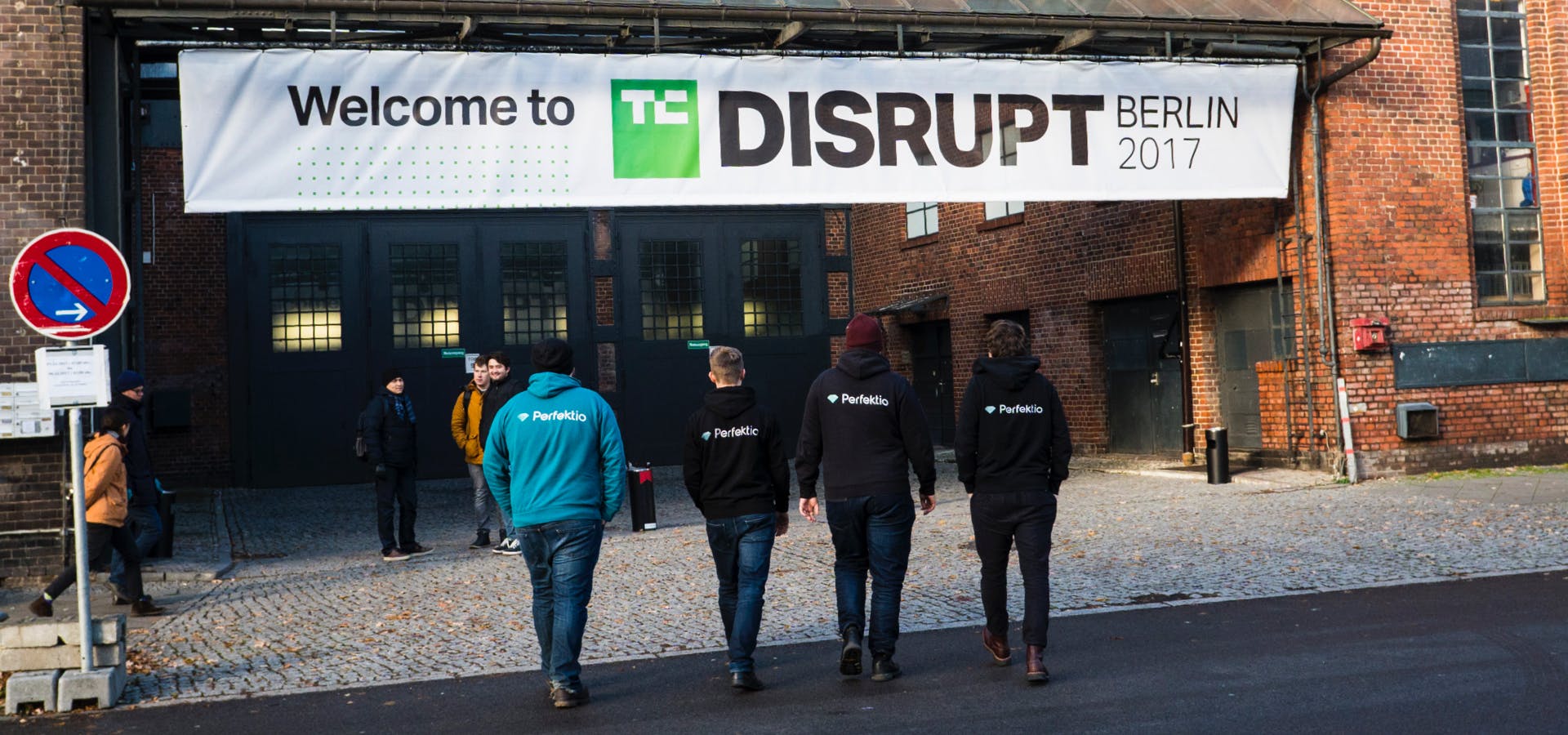 There was actually 5 of us, but one had to stay behind and hold the camera.
We began the hack by deciding everyone's roles: I would do the React Native app, other Jonne would build front end which records the messages, Jyri would build tbe back end, Henri's task would be devops stuff, and Tuomas could just waive his hands and prepare for a pitch.
We coded the thing from 14 to something around 20, and things looked quite good. However the app had a problem that it couldn't stop other apps' from playing stuff, such as Spotify. We tried pivoting from non-Expo React Native app to Expo version, which might have solved this, but then we faced other kinds of problems: Facebook authentication was a bit different, and async audio requests went nuts. So we pivoted back to the non-Expo version and decided that in this hack it is OK to have an app that couldn't stop other audio sources. This cost us around 1–2 hours of time, but hey, live and learn.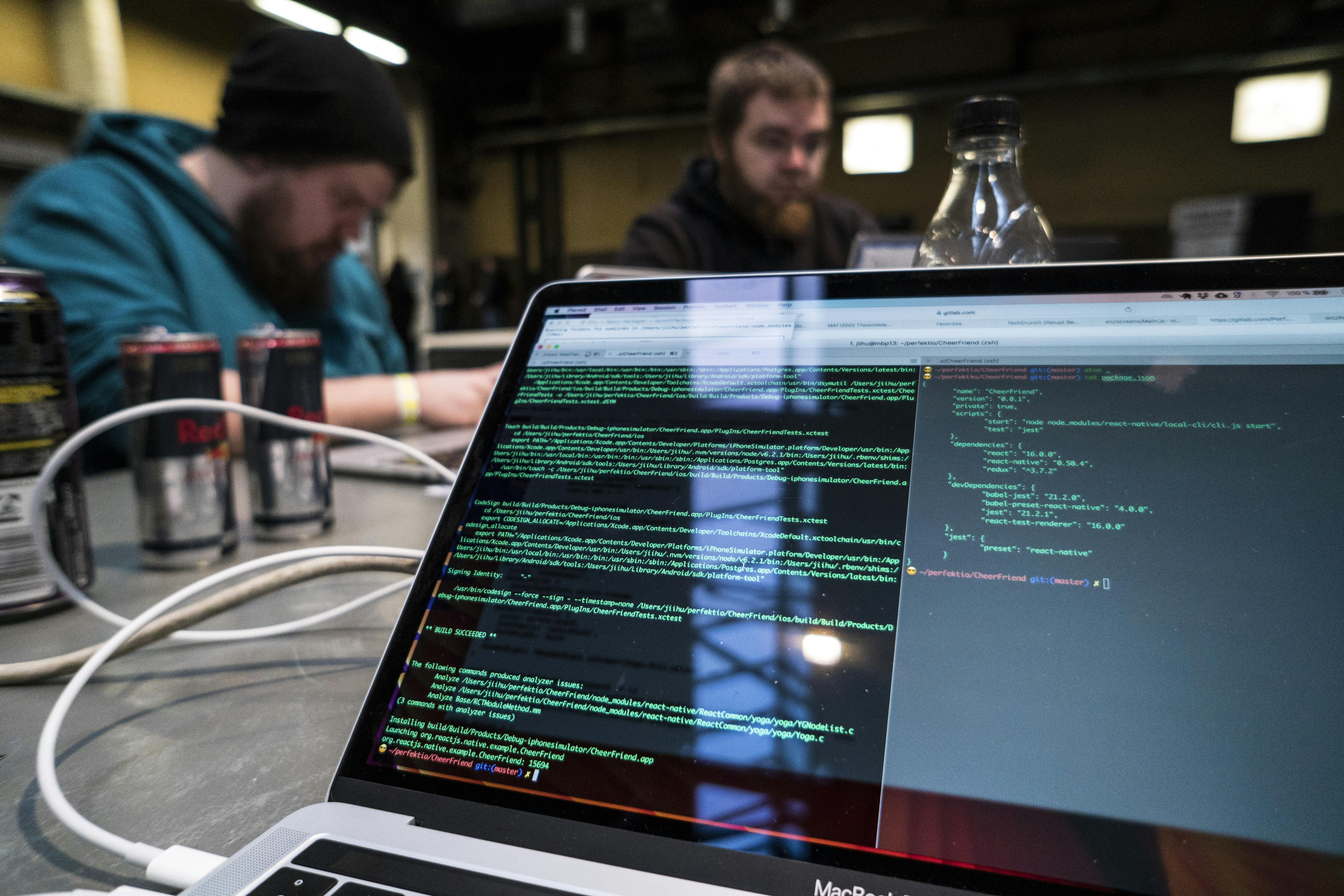 Artsy fartsy coding.
We also experienced quite many problems with the Javascript recording, since browsers tend to have different kinds of ways to record audio. In the end we were able to fix those at least partially.
Tuomas went to sleep many hours before us to get a good night sleep before the next day pitching. That didn't help him much though, since we had our beds in hotel (which was actually a boat) that had a night club on board…
Rest of us got the app almost ready before going to sleep, just some devops stuff left for the Henri to do before going to sleep.
Free beer for the person who comes up with the funniest caption for this picture.
Sunday
When we woke up, Henri said that he had fallen asleep while doing the devops stuff last night. So we had about 1.5–2 hours left to complete those tasks in addition to our finishing our slides and the pitch.
We prayed to whatever gods there may be, and managed to get the web front end up and running 10 minutes before the deadline ended, as well as our site http://www.cheerfriend.com
This was despite the fact that I accidentally replaced the web front end's code with a copy of our cheerfriend.com's source code and spent while figuring out that what is happening.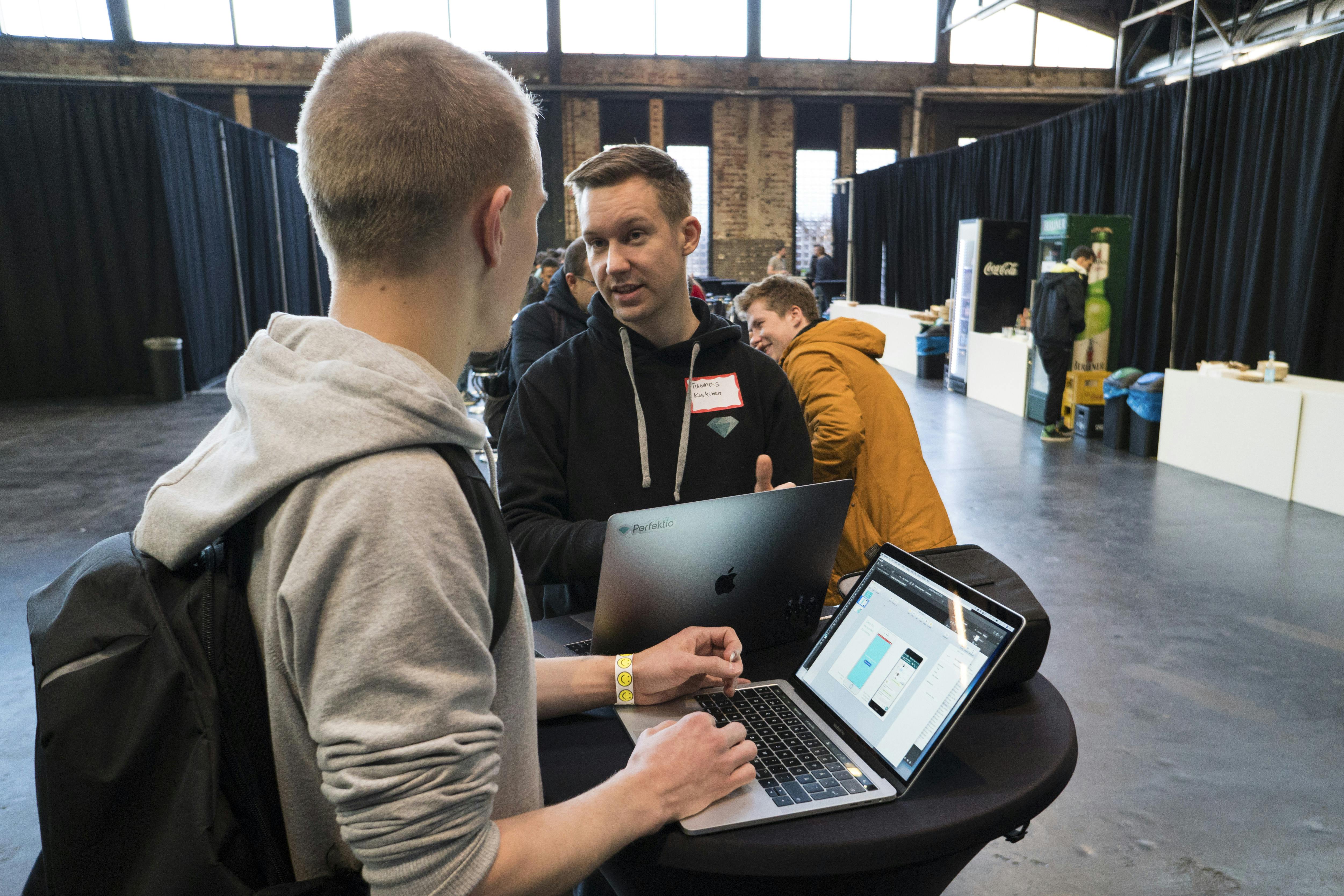 "You had the slides ready right?"
After everything was ready and packed, it was time to head towards the pitching stage. Production value of pitching part was top notch. Absolutely the best we've experienced so far. Everything was super smooth for the viewers. Though the one minute time limit was quite tough, and many seemed to struggle with it.
This was Tuomas' first pitch to a big audience, but he really nailed it. There were some problems with the slides, since I started the slide with video demo10 seconds late. In retrospect, we also realized that if our app idea revolves around audio, it might be good idea to have sound in the demo so that people can get a hold of the idea 🙄

Tuomas readying to drop the mic
Sunday while we were on our way to the airport, we got message that our flights were cancelled due to bad weather in Frankfurt. After waiting few hours in line at the airport we were forwarded to a hotel and we got to spend extra night in Berlin so that was kinda cool.
Conclusion
We had a lot of fun at the hack and learned a lot. We'll definitely keep our eyes on the TechCrunch hackathons and eagerly wait for the next one.
Our plan is to release the app in the near future after we've tackled down few bugs. So stay tuned! In the meanwhile, check out article of our idea in TechCrunch or view Tuomas' pitch 🤗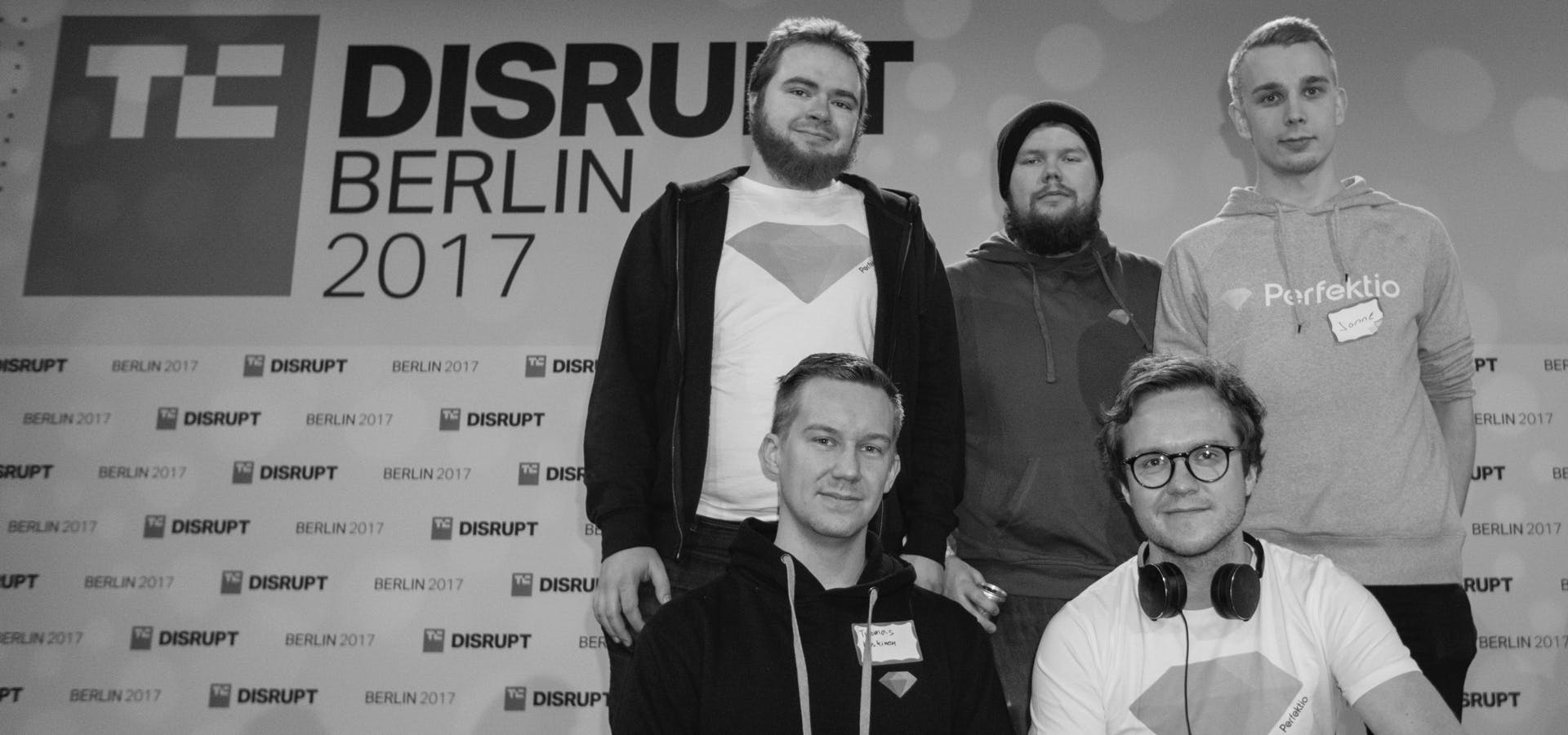 Thank you TechCrunch!
About Hack Report
Hack Report is our way of giving back in the context of hackathons. Hack Reports highlight well crafted hackathons and innovation challenges. They also provide glimpses on how we hack award winning solutions.